Kynar nano covered self-cleaning sun-blocking films
Our Kynar dark silver self-cleaning sun-blocking window films have a self-cleaning and scratch-proof nano cover.
Kynar and nano covers have been dominating our daily lives recently. Kynar dirt-repellent sun-blocking films have the same nano effect with Lotus flower in the nature.
Kynar sun-blocking window films are self-cleaning and they are also UV-resistant films. Therefore, Kynar sun-blocking films should not be covered from the sides, they provide the best UV-blocking results without covers. 
Advantages of Kynar sun-blocking films: You do not have to do tedious window cleaning works anymore. Self-cleaning films are designed as dirt-repellent films allowing dirt to glide away.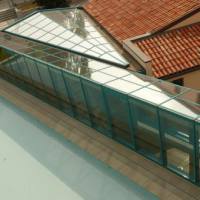 (9)
Ø 98%
are scratch-proof nano covered sun-blocking window films. UV-resistant, self-cleaning films which are suitable for the roof surfaces which are difficult to reach. It is not necessary to clean your windows anymore thanks to the sun-blocking window films with high heat reduction feature. They are dirt-repellent sun-blocking window films with nano effect.
Fragen und Antworten zu Kynar self-cleaning film
❓ What makes the kynar self-cleaning films special?
Kynar self-cleaning films feature a special nano cover that makes cleaning unnecessary. A down-grade of 20° is recommended.
✔️ Where to use Kynar self-cleaning foils?
Kynar self-cleaning foils were specially developed for roofs in outdoor areas, where cleaning is hard and requires a great amount of effort.
✂️ How to install Kynar self-cleaning foils?
After removing the protective film, spray the window and film with the assembly concentrate/water mixture, then position the film on the window and after that, scrape out the moisture again.
🗑️ How to remove Kynar self-cleaning foils?
In order to remove Kynar self-cleaning foils, heat the foil with a hair-dryer. Then pull the foil from one of its corners. You can pull it longitudinally easily. After the old foil is removed, spray Ajax window cleaner on the windows in order to remove the residuaries of the adhesive material. The remaining residuaries can also be removed with the help of a shaving razor or a glass scraper after a short time.